Vomanet
, ADA Band adalah sebuah grup musik yang berasal dari Jakarta, Indonesia. Grup ini awalnya didirikan oleh Suriandika Satjadibrata, Ibrahim Imran, Krishna Balagita, Iso Eddy H dan Elif Ritonga. Namun di tengah perjalanan karirnya grup ini mengalami banyak pergantian personil, grup musik yang melejit melalui tembang-tembangnya seperti "Masih", "Manusia Bodoh" dan "Karena Wanita" ini personilnya yang terkini adalah Suriandika Satjadibrata, Donnie Sibarani dan Marshal Surya Rachman.
Ada Band terbentuk pada tahun 1996, dengan anggota Ibrahim Imran (Baim) pada gitar & vokal, Iso Eddy Himawarso (Iso) pada keyboard & backing vocal, Krishna Balagita pada keyboard/piano, Suriandika Satjadibrata pada bass dan Muhammad Abdu Elif Ritonga (E'el) pada drum. Pada tahun 1997, Ada Band merilis album pertama dengan judul "Seharusnya". Lagu "Seharusnya" menjadi andalan dalam album perdana mereka. Awalnya pada tahun 1993, sebelum mereka membentuk Ada Band, Baim, Dika, Iso , E'el dan Herry telah tergabung dalam sebuah grup musik pengiring yang bermain di kafe atau hotel secara rutin dengan nama B to 90's.
Nama B to 90's itu sendiri adalah sebuah nama pemberian saat mereka sedang mengisi suatu acara di radio Prambors Jakarta. Untuk Review Lebih Jelas silahkan
Klik Disini
Track List ADA BAND
Ada Band – Seharusnya (1997)
Track List :
01. Ada_Band_-_Seharusnya.mp3
02. Ada_Band_-_Bersamamu.mp3
03. Ada_Band_-_Jangan_Pernah_Engkau_Lupa.mp3
04. Ada_Band_-_Isi_Hatiku.mp3
05. Ada_Band_-_Impian.mp3
06. Ada_Band_-_Semesta.mp3
07. Ada_Band_-_Berjalan_Sendiri.mp3
08. Ada_Band_-_Ku_Kan_Tetap_Ada_Disini.mp3
09. Ada_Band_-_Hanya_Kenangan.mp3
10. Ada_Band_-_Percayakan_Cinta_Kita.mp3
Ada Band – PerADAban 2000 (1999)
Track List :
01. Ada_Band_-_Oughh...!!
02. Ada_Band_-_Bawalah_Anganku
03. Ada_Band_-_Bilakah?
04. Ada_Band_-_Putih
05. Ada_Band_-_Jalan_Hidupmu
06. Ada_Band_-_Tinggalkanlah_Cinta
07. Ada_Band_-_Pastikan_Cinta_Kita
08. Ada_Band_-_Selamanya
09. Ada_Band_-_Bukan_Saatnya
10. Ada_Band_-_Ayoe-ku
Ada Band – Tiara (2001)
Track List :
01 Ada Band - 1000_Bayang.mp3
02 Ada Band - Belenggu_dan_Cinta.mp3
03 Ada Band - Dewi_Cinta.mp3
04 Ada Band - Lagu_Terakhir_Untukmu.mp3
05 Ada Band - Madah_Illahiah.mp3
06 Ada Band - Nasha.mp3
07 Ada Band - Salahkah.mp3
08 Ada Band - Terasa_Indah_Bersamamu.mp3
09 Ada Band - Tiara.mp3
10 Ada Band -Air_Cintamu.mp3
Ada Band – Metamorphosis (2003)
Track List :
01 Ada_Band_-_Belenggu_&_Cinta.mp3
02 Ada_Band_-_Biarkan_Ku_Pergi.mp3
03 Ada_Band_-_Kaulah.mp3
04 Ada_Band_-_Kekasihmu_Yang_Lain.mp3
05 Ada_Band_-_Lagu_Terakhir_Untukmu.mp3
06 Ada_Band_-_Manja.mp3
07 Ada_Band_-_Masih_(Sahabatku_Kekasihku).mp3
08 Ada_Band_-_Nasha.mp3
09 Ada_Band_-_Raihlah_Wangi_Dunia.mp3
10 Ada_Band_-_Salahkah.mp3
11 Ada_Band_-_Seberkas_Kisah_Lalu.mp3
12 Ada_Band_-_Sungguh_Ingin_Ku_Berlari.mp3
13 Ada_Band_-_Terasa_Indah_Bersamamu.mp3
14 Ada_Band_-_Terbuai.mp3
15 Ada_Band_-_Tiara.mp3
16 Ada_Band_-_Tinggalkan_Dia_Saja.mp3
Ada Band – Discography (2003)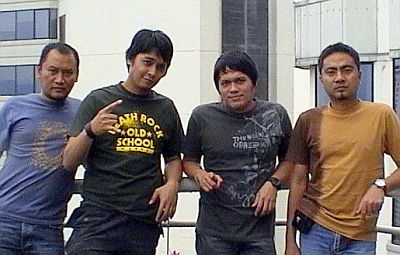 Track List :
01 Ada_Band_-_1000_Bayang.mp3
02 Ada_Band_-_Air_Cintamu.mp3
03 Ada_Band_-_Bawalah_Anganku.mp3
04 Ada_Band_-_Bilakah.mp3
05 Ada_Band_-_Ough!!.mp3
06 Ada_Band_-_Seharusnya.mp3
07 Ada_Band_-_Yang_terbaik_bagimu_(jangan_lupakan_yah).mp
Ada Band – Heaven of Love (2005)
Track List :
01 Ada_Band_-_Belenggu_&_Cinta.mp3
02 Ada_Band_-_Bilakah_Ku_Pergi.mp3
03 Ada_Band_-_Hitam_&_Putih.mp3
04 Ada_Band_-_Jangan_Egomu_Kau_Paksakan.mp3
05 Ada_Band_-_Kau_&_Keajaiban_Kecilmu.mp3
06 Ada_Band_-_Kau_Auraku.mp3
07 Ada_Band_-_Kemanakah.mp3
08 Ada_Band_-_Kencan_Rahasia.mp3
09 Ada_Band_-_Langit_Tujuh_Bidadari.mp3
10 Ada_Band_-_Manusia_Bodoh.mp3
11 Ada_Band_-_Penjara_Jiwa.mp3
12 Ada_Band_-_Seberkas_Kisah_Lalu.mp3
13 Ada_Band_-_Segudang_Cinta.mp3
14 Ada_Band_-_Setengah_Hati.mp3
15 Ada_Band_-_Tak_Bisa_Lagi_Menyayangmu.mp3
Ada Band – Romantic Rhapsody (2006)
Track List :
01 Ada_Band_-_1001_Cara.mp3
02 Ada_Band_-_Haruskah_Kumati.mp3
03 Ada_Band_-_Jadikan_Aku_Raja.mp3
04 Ada_Band_-_Jalan_Cahaya.mp3
05 Ada_Band_-_Karena_Wanita.mp3
06 Ada_Band_-_Masih.mp3
07 Ada_Band_-_Nadia.mp3
08 Ada_Band_-_Pemburu_cinta.mp3
09 Ada_Band_-_Pura-pura_Cinta.mp3
10 Ada_Band_-_Sayang.mp3
11 Ada_Band_-_Senandung_Lagu_Cinta.mp3
12 Ada_Band_-_Setinggi_Nirwana.mp3
13 Ada_Band_-_Singgasana_Cinta.mp3
14 Ada_Band_-_Surga_Cinta.mp3
Ada Band – Cinema Story (2007)
Track List :
01 Ada_Band_-_Akal_Sehat.mp3
02 Ada_Band_-_Belahan_Biwa.mp3
03 Ada_Band_-_Hitam_dan_Putih.mp3
04 Ada_Band_-_Kau_dan_Dirinya.mp3
05 Ada_Band_-_Lari_dar_Kkenyataan.mp3
06 Ada_Band_-_Nyawa_Hidupku.mp3
07 Ada_Band_-_Penjara_Jiwa.mp3
08 Ada_Band_-_Semenit_Waktu.mp3
09 Ada_Band_-_Setengah_Hati.mp3
10 Ada_Band_-_Tak_Bisa_Lagi_Menyayangimu.mp3
Ada Band – Harmonious (2008)
Track List :
01 Ada_Band_-_Armada_Masa_Depan.mp3
02 Ada_Band_-_Baiknya.mp3
03 Ada_Band_-_Bukan_Cinta_Sempurna.mp3
04 Ada_Band_-_Cinta_Sempurna.mp3
05 Ada_Band_-_Hati_Tunggal.mp3
06 Ada_Band_-_Kuat_Dahsyat.mp3
07 Ada_Band_-_Mimpi.mp3
08 Ada_Band_-_Musik.mp3
09 Ada_Band_-_Pemain_Cinta.mp3
10 Ada_Band_-_Pesona_Potretmu.mp3
11 Ada_Band_-_Suara_Kecewa.mp3
Mystery Of Musical,2010
Track List :
01. Biar Mampus Saja
02. Pemujamu
03. Misteri
04. Masi Adakah Cinta
05. Cinta Masih Bisa Tersenyum
06. Buang Saja Ragu
07. Semakin Dekat
08. Semenit Waktu
09. Belahan Jiwa
10. Mimpi
11. Pesona Potretmu
12. Armada Masa Depan
DOWNLOAD LINK MEDIAFIRE KLIK DISINI
password mediafire : vomanet.com